Members of the world-famous Warwick Rowerswill join the Emerald Lifeteam in the Positive East Red Run in London on 26th November. The Red Run, the largest event of its kind, is a 5k/10k run in London's Victoria Park to raise awareness and vital funds for essential HIV services and charities across the UK. This is thesecond year Emerald Life has been a leading sponsor of the Red Run and Emerald is taking the Red Run global to 5 continents where Emerald supporters will be simultaneously running in London, Atlanta, Sydney, Hong Kong and Cape Town.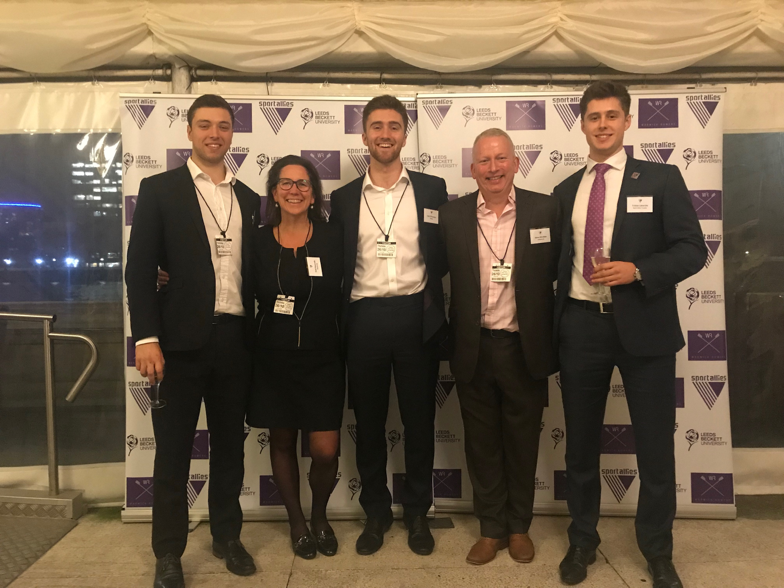 Warwick Rowers (Alex, Cian and Tristan) joining Team Emerald CEO and chairman (Heidi and Steve) at the launch of the Sport Allies' annual report at the House of Commons this week
Warwick Rowers are the founders of Sport Allies, a charity established to promote more inclusive attitudes in sport, particularly towards the LGBT community. Sports Allies' official launch was last week in Westminster and sport personalities such as Kate Richardson-Walsh, the UK's Olympic gold women's hockey captain were there to lend their support. Warwick Rowers ongoing outreach program to end discrimination in sport parallels Emerald Life's determination to end discrimination in the insurance sector. Warwick Rowers are famous for their naked calendars which provide critical funding for Sports Allies activities.
Steve Wardlaw, chairman of Emerald Life and Team Emerald runner commented:
"It's always wonderful when allies play a positive role in encouraging equality and acceptance in sport, one of the last bastions of prejudice and homophobia, as last week's FA hearings made clear. Our thanks to Warwick Rowers for joining in support of Red Run efforts."
Tristan LaMarche, former Warwick Rower and trustee for Sport Allies, added:
"Part of the mission of Sport Allies is to promote more inclusive attitudes in sport, particularly team sports, and to challenge exclusion based on gender or sexuality. The Red Run is a great fundraiser. We are really pleased to be joining Team Emerald in our joint efforts to combat discrimination."
Sadly, mostly because of the cold weather, this time the Warwick team will be keeping their clothes on. However, they will certainly be joining the Red Run after-party in at the People's Park Tavern in Victoria Park for those who want to join in the fun.
Footnotes:
1.0 Emerald Lifeis an insurance provider focused on addressing the needs of under-represented groups across the financial services sector. As well as being the first full-service insurance provider for the LGBT community, it was awarded Ethical Financial Services Provider of the Year in 2016, supports a number of grassroots organisations, including those committed to addressing inequality, and recently has advised trade bodies including the ABI on BME issues within insurance.
2.0 The 2017 World AIDS Day Red Run will be held in east London's Victoria Park on 26th November 2017.www.redrun.org.uk.
3.0 The Red Run is sponsored by Emerald Life, Diva Magazine, Interbank, Matrix Causes Fund and Starbucks and hosted by Positive East. This year's event will build on last year's record breaking turnout with nearly £60,000 raised, and will support 28 HIV charities across the UK.
4.0 Participating Charities include Positive East, 56 Dean Street,AIDS Orphan, Brigstowe, Cara Trust, The Crescent, Food Chain, GMFA, Herts Aid, I-Base, KWA Africa, Living Well CIC, Make A Difference Trust, Metro Charity, Mildmay, NAM, National AIDS Trust, Positively UK, Prepster, Rain Trust, Sahir House, Spectra, StopAIDS, Sussex Beacon, Terrence Higgins Trust, Wandsworth Oasis and Youth StopAIDS.
5.0 Sport Allies is a UK registered charity working to promote more inclusive attitudes in sport, particularly towards the LGBT community. Their website is www.sportallies.org.
Media Contact: press@emeraldlife.co.uk