Landlord liability insurance is not a legal requirement but can you afford to risk being without it?
Real estate investing is generally quite secure. There are concerns about rent gaps, and the cost of maintenance, but usually these are events you can plan for in your financial forecast. If you have a well-maintained property and a long-term tenant, then you can enjoy a regular income every month while the capital value of the property continues to increase.
You can even outsource the letting and management side of things so you barely have to do anything at all, although of course that comes at a cost – sometimes up to 11-12% of your gross rent. It all depends on your own view of how much time you have to manage your property.
But there are some 'black swan' events that might spoil your plans. What if someone was injured on your property, or when they are passing your property? A broken limb means no work for a while and a falling slate could land on a vehicle or even a person?
These freak accidents are rare. But by no means impossible. In such a case, you as the property owner may be liable for all costs associated with that injury, so you should consider landlord liability insurance.
Landlord Liability Insurance
Landlord liability insurance can cover your legal costs if your property causes damage to someone or something and you end up with a financial liability as a result.
Property owner's liability cover is included in every Emerald Life home insurance policy anyway, including landlord insurance. Our standard terms give cover of £2 million, but you can always increase that to £5 million at a small extra premium.
While property owner liability protection is certainly important in a standard home insurance policy, it is perhaps even more important for landlords because you have tenants at the property which may increase your risk, as you are not there to check on regular maintenance.
Even the most caring and attentive landlord can still end up liable because of something that happens on their property – so landlord liability insurance becomes important.
How Much To Cover?
These £2 million and £5 million levels are fairly industry-standard bands and if you think you may need more there may be higher levels out there. You should seek professional financial advice if you are concerned about this.
In general, lawsuits for damage caused by a property generally consider either the loss to property or in the case of personal injury, how much money the claimant could have made were they not injured.
It seems tragic but in legal liability terms, injury to a person is calculated as the loss to or a reduction in their remaining lifetime earnings and/or any treatment costs, based on reasonable estimates.
Property owners insurance typically covers you for damages awarded to the claimant, your legal costs in defending a claim, and their legal costs, if you're found to be at fault.
Don't forget that you may think a life-changing accident is unlikely at your property, but you could still be sued for any accident on your property if the claimant decides to do so. Even a much smaller claim for damage to property, say a vehicle, can become a large financial liability when time and legal costs are taken into account.
The Defective Premises Act 1972 states the legal obligation for landlords to prevent their tenants from suffering injury from property defects. Some of the more common defects to be aware of include:
Faulty floorboards
Loose carpets
Damaged handrails on staircases
Loose plaster
You'll be used to a lot of these common pieces of wear and tear. But once you have been informed of them and had reasonable time to fix them you are liable.
Of course it's not just your tenants who are at risk here, but visitors, contractors and even passers-by too.
What To Look For
As with any insurance policy you should read landlord liability insurance wording carefully and check how it suits your situation.
For instance, most policies exclude liability caused by business use – other than your business as a landlord. For that you would often need an extra business-specific policy.
Also remember that landlord liability insurance does not cover the tenant if the tenant causes an accident, although in that situation you should not be at fault.
There are plenty of other exclusions such as infectious diseases. Our policy will not cover you if someone catches an infectious disease (one that can be passed from person to person) at your property.
How To Get Landlord Liability Insurance
Getting landlord legal insurance with Emerald Life is easy. Just go through our quote journey to buy your landlord insurance. But if you would rather talk to a UK-based underwriter you can call us now.
Our powerful and fast quote form works for all kinds of properties – standard home insurance, unoccupied, HMOs and blocks of flats.
Most of the questions should be quite self-explanatory. If not there are handy hints that popup if you hover over the icons to the side.
When you get to the question about property owner's liability insurance that is the question about landlord liability insurance. All you have to do is decide if you want £2 million or £5 million.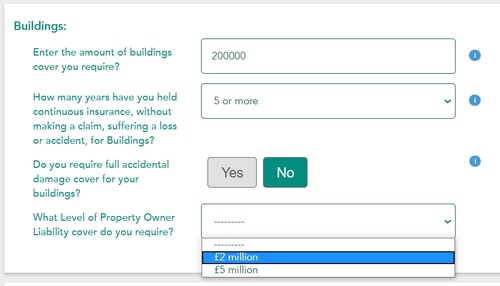 Once you have finished the quote you can proceed to buy online straight away or you can email us if you have any specific questions.