French Bulldogs are one of the most popular breeds of canine and beloved by thousands of people around the country. With their small tubby bodies, mushy features, and foxlike ears, "Frenchies" are one of the most unique breeds. However, these small cute dogs come with some challenges that are unique, so finding good pet insurance cover is a wise choice.
Because French Bulldogs are more susceptible to health issues, some insurance companies take a cautious approach when covering this breed. While most insurers will sell you a policy, you may find you end up paying more than you would other breeds. That said, buying pet insurance should still be something you do as it is a wise investment that will help protect your animal and your finances.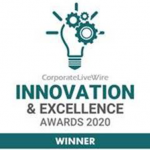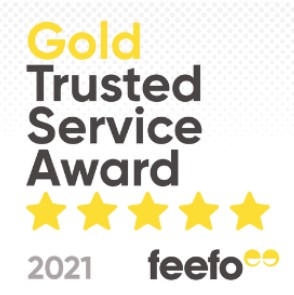 "Research suggests that Emerald Pet Insurance offer excellent value for money and are very competitively priced for the high levels of cover provided. Even taking into account the optional extras. When these are removed, they are even more competitively priced."
– Thatsinsurance.com
Insurance companies don't like risk and the fact is French Bulldogs pose more risk than other dog breeds because of health problems that are common in the breed. That's fine because they are lovable and playful companions, but it's important to find the best pet insurance at the most affordable rate.
Keep reading to find out all you need to know about French Bulldog insurance, including why it is important, how to find the best deal, and why EmeraldPet insurance is a good option.
Why buy pet insurance for your French Bulldog?
As noted, French Bulldogs are prone to suffering health issues that another a mixed breed dog would not. For example, breathing problems are common amongst French Bulldogs because of those cute squashed up faces. It's not unusual for these flat faced dogs to end up in the vet because of common health problems breathing difficulties.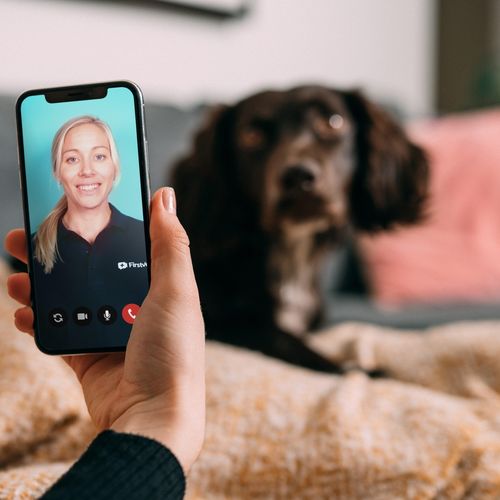 At EmeraldPet* we believe you should have effortless access to expert vet care. That's why we offer free digital consultations through FirstVet with qualified vets in your local area.
*EmeraldPet is a trading name of Sterling Client Services Limited, regulated by the Financial Conduct Authority number 628324.
Known for their loving and gentle personalities, French Bulldogs are also very playful and get excited easily. Hardly the most graceful dog, Frenchies and mishaps go together and accidents happen, some requiring intervention from a vet.
So, there's a good chance you will get familiar with your local vet if you own a French Bulldog! As you may know, visiting a vet is often an expensive experience. Even regular health checkups can hit your bank balance, and major treatments and surgeries can run into hundreds and even thousands of pounds.
Having proper pet insurance in place is a nice safety net to have. No, French Bulldog insurance won't help to avoid accidents or illness, but it will mean you can financially cope if the vet surprises you with a massive bill. For a small monthly fee, you will have the financial cover to handle vet fees and other associated care and training.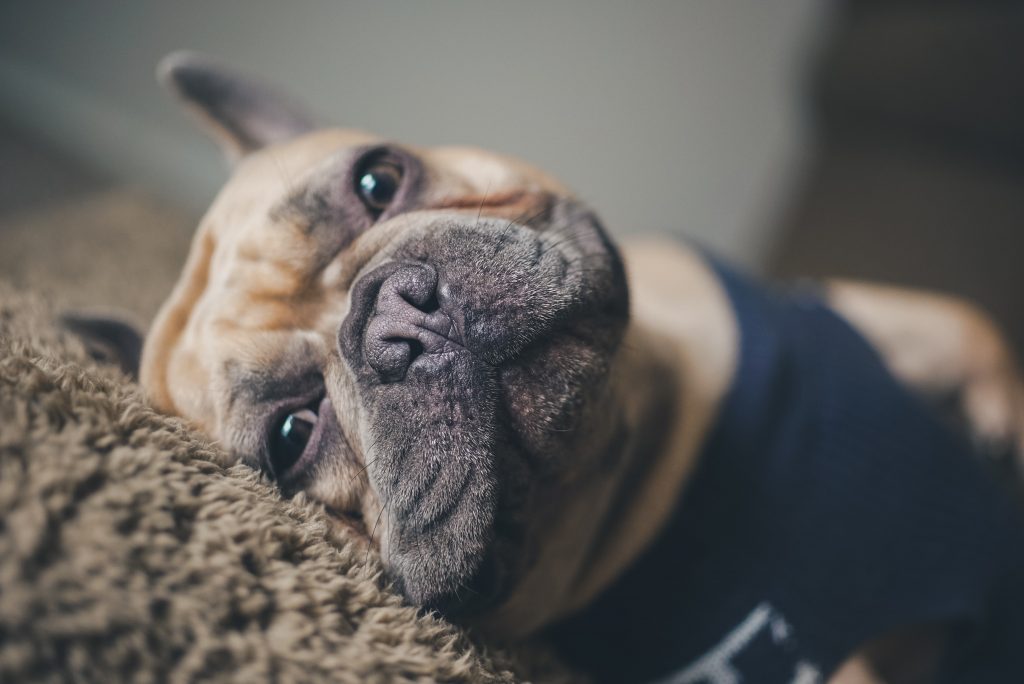 However, simply looking for pet insurance is not enough. You need a level of cover that will help you under all claims scenarios.
There's little point in getting insurance if you later find you are not covered under some circumstances, such as specific health treatment options. While you can pick and choose some benefits, there are some types of cover that should be available on any policy you buy.
Despite the relative affordability of pet insurance, many dog owners will avoid buying cover. Misconceptions range from insurance being too expensive to not providing proper cover in times of need. Both these ideas are wrong. As mentioned above, pet insurance is both inexpensive and you can choose a level of cover to meet your needs.
Finding the Best Pet Insurance for Your French Bulldogs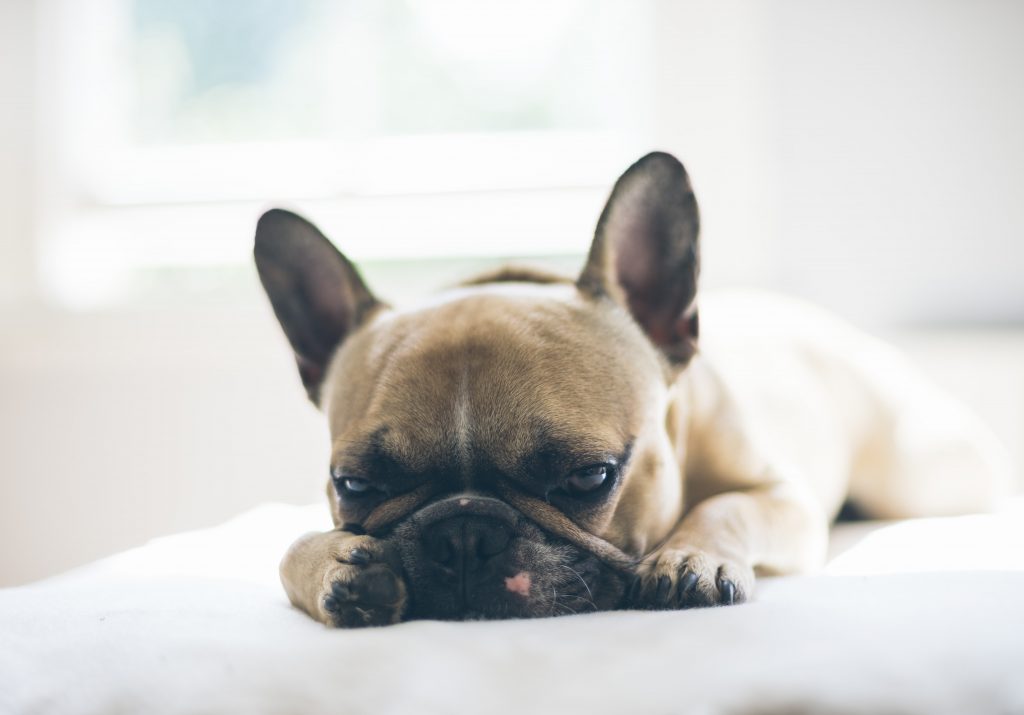 Pet insurance can remove the financial burden on you when your dog needs veterinary care. It can also provide cover for a range of the other scenarios, such as treatment diet, additional treatments, ongoing care, training, and overseas insurance. Because Frenchie dogs have unique health requirements, owners often want to guarantee the best level of care. With a proper insurance policy that helps you when you make claims, you will feel more confident about taking your Frenchie to the vet.
When shopping for the best French Bulldog insurance, there are some things you need to know about:
Before Getting a Policy
Many insurance companies offer lifelong policies amongst their range of coverage options. However, there are also per illness policies available usually at a lower price. Some customers will find a Frenchie that is too old may not be insurable or will cost over the odds to cover. While it is not universal, some insurance companies ask owners to give their pet a health examination with a veterinarian before offering a policy.
Available Cover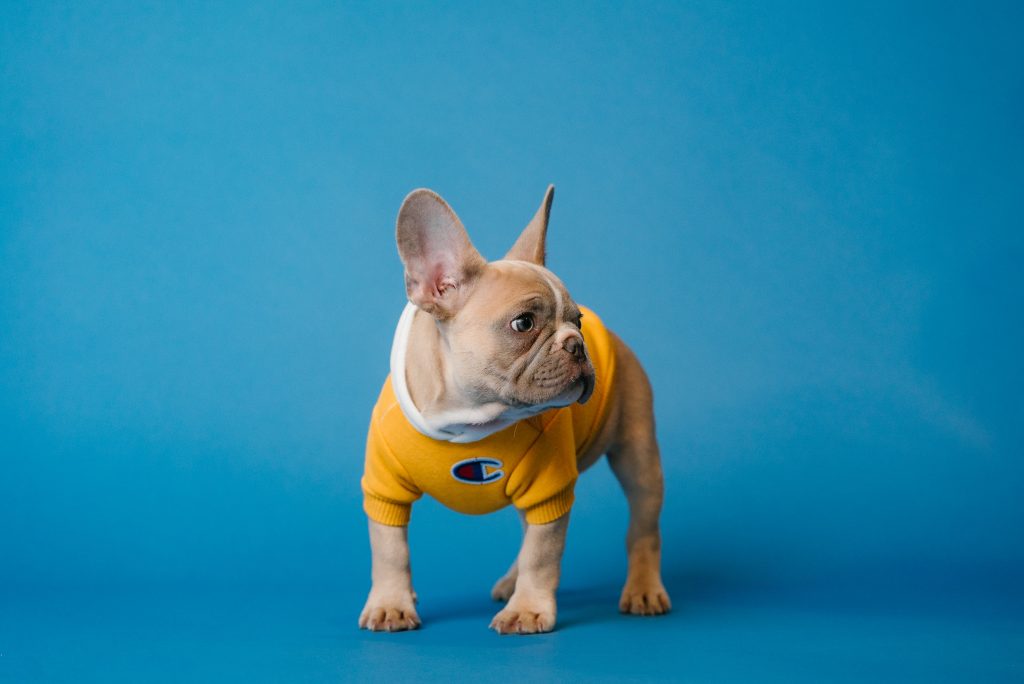 Insurance policies are not created equal and some companies will bake in more benefits into standard pet insurance than others. For owners of French Bulldogs, there are some things you need to consider when looking at cover for this unique breed.
Firstly, you should check if the policy you want has a broad range of cover options. If you see an accident-only policy, this means the plan will cover against injuries from accidents but won't include costs for illness and normal visits to the vet. If you want a more rounded level of cover, look for a policy that combines accident and illness, just like the standard pet insurance from EmeraldPet.
Another thing to look out for is continual care, which will provide cover for ongoing treatment when you renew the policy. Some insurance policies will not extend this coverage unless you pay more.
Understanding Payout Limits and Deductibles
If you're unfamiliar with the concept of a deductible in insurance, it is the amount you must pay out of your own pocket before your insurer will approve a claim. Some deductibles are annual on your policy, while some are per incident. Some insurers allow you to choose your level of deductible to get a better rate, but others have a fixed percentage deductible.
Furthermore, an insurer will place what's known as a payout limit on your pet insurance policy. This means there is a cap on the yearly amount your insurance provider will pay out in claims. Payout limits will depend on the type of policy you have for your Frenchie.
Policy Costs
It's not easy to predict how much your French Bulldog insurance will cost because there are so many variables involved. Some of the main things your insurance company will consider include:
Level of cover
Optional extras
Age of your French Bulldog
Location
Deductible
Exclusions
Exclusions are one of the most important parts of your policy and you should read them carefully. These are the situations that your insurance company will not pay out on a claim. A Frenchie with pre-existing conditions is perhaps the classic example, but there are others.
How to Find the Best French Bulldog Insurance
If you want standard pet insurance, there are dozens of options on the market. However, some insurance companies won't cover Frenchies, so you will need to shop around for one that will. In fact, shopping around for insurance is something you should always do to ensure you get the best policy at the most affordable price.
Quote engines are an option, although there are a lot of misconceptions about their usefulness. Contrary to popular opinion, you won't find the most affordable options on comparison websites. Insurers often hide costs and show their base cover on these sites, so what you see is not always the final price.
That does not mean you should ignore comparison tools. They remain a handy and efficient way to get an overview of what insurance products are available. Use them to arm yourself with information about how much you can expect to pay for the level of cover you want. Try to avoid buying your coverage directly through comparison websites and instead contact insurers directly to find the best deals and discounts.
EmeraldPet Insurance Policies
If you have a French Bulldog and want to get pet insurance, it is worth contacting us at EmeraldPet. We provide cat and dog insurance for accident and illness as standard across four level of veterinary fees. Our insurance products are authorised and regulated by the Financial Conduct Authority with cover available for treatments outlined in your policy up to the set fee limit agreed on purchase.
Many customers opt for our standard pet insurance package, which is available over four separate limits towards vet fees, £1,000, £3,000, £6,000, and £7,500. Depending your level of cover, our policies will cover vet care and accidents up to the set limit. We also include complimentary treatments up to 25% of your policy limit, such as acupuncture and physiotherapy.
Other built-in benefits in the EmeraldPet standard pet insurance policy is £200 towards training programs, and £300 towards clinical diets.
We understand some customers need a more comprehensive cover for their French Bulldog pet insurance. That why we have numerous optional extras, including:
Up to £1,500 per year for a missing pet, including rewards and advertising
Daily pet-sitting or boarding fees up to £1,500 per year
Up to £1,500 per year towards accidental or illness-related theft, death, or straying
Holiday cancellation up to £5,000 per year
Quarantine costs up to £2,000 per year
Emergency expenses up to £1,000 per year
Loss of a pet passport up to £250 per year
Maximum cover up to £1,000,000 per event
Legal liability cover if your dog damages someone else's property
Legal liability cover if your dog causes injury or death
Conclusion
Frenchies are adorable and loyal dogs that come with some unique needs. Providing the best level of care is important and insurance is the best way to avoid paying those nasty vet fees yourself. Shopping around for pet insurance is worth doing because not every insurer will cover a French Bulldog. Remember, make sure you read any insurance policy you want to purchase and understand exactly what level of cover is on offer, including deductibles and exclusions.